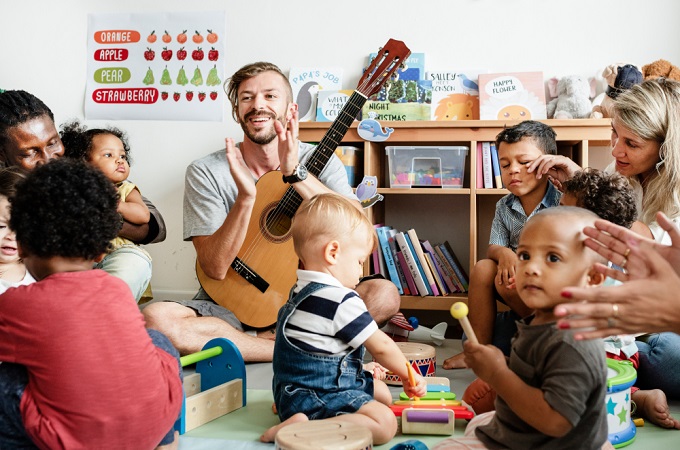 Did you know that music can ignite the creative spark in preschoolers? Little kids love exploring their imaginations, and music can help them do just that! As a reliable provider of daycare in New York, we want to share how music inspires creativity in preschoolers. We'll also share some fun activities you can try to nurture their artistic minds.
Music has a special way of capturing children's attention. It makes their brains work better and helps them think in creative ways. By exposing preschool kids to different types of music, they can discover new rhythms, sounds, and styles, which expands their creative abilities.
Music also gives preschoolers a wonderful way to express themselves. In childcare, they can sing, dance, and even try playing musical instruments. That helps them think creatively, experiment with different sounds, and find their artistic style.
Moreover, listening to and singing songs can enhance kids' language and communication skills, making it beneficial, especially for bilingual education. They learn new words in different languages, practice speaking with the right rhythm, and have fun expressing themselves through music. This combination enables them to effectively share their ideas and feelings in many languages.
Encourage your child's creativity through music with some simple activities. Singing nursery rhymes, playing musical games, dancing freely, and introducing basic musical instruments are great ways to get started. These activities let preschoolers explore their creativity, improve coordination, and develop a love for music.
Truly, music is a wonderful tool for inspiring creativity in preschoolers. Embrace the power of music in early childhood and watch your child's creativity blossom.
If you seek reliable early childhood education in New York City, New York, look no further than Petits Poussins Too. Contact us today to learn more about our engaging programs that support your child's artistic potential.