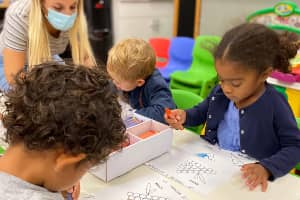 As more parents return to work, their preschoolers will be going back to early child care education centers as preparation for eventually entering a formal academic setting. Some children will adjust easily and quickly, but others may struggle with separation anxiety or getting used to a structured learning environment. The following tips can help to make the early childhood setting experience smooth and successful.
Stay Positive
Maintain an upbeat outlook when taking your children to their day care program. Children have an uncanny ability to detect and absorb their parents' emotions. If you are anxious and uncertain, they probably will be, too. Display a natural cheery attitude that doesn't appear fake or contrived. Make the experience seem as normal as possible, and your kids will likely perceive it that way. Of course, if anything goes wrong, or if you have doubts about the program or caregivers, handle the situation calmly to avoid alarming your child.
Explain What to Expect
The typical childhood experience in day care is generally fun and easy for kids to navigate. Programs and activities are developed in accordance with the children's age group and abilities. Ask the teacher about the daily schedule and a curriculum. You might receive a print copy or be able to have one emailed to you. Each day before heading off to the center, explain casually to your children what they will doing and add an element of anticipation or excitement. The little ones may likewise start to look forward to their day care adventures.
Provide Transitional Support
A successful childhood experience generally requires parental support. In an early childhood day care center, you could walk your child indoors and spend a few minutes to ensure he or she integrates with the current activities. You might connect your little one to a teacher or a classmate to mitigate any feelings of loneliness or shyness. Exchanging greetings with the staff and possibly with one or two of the children whose names you know will reassure your child that you are familiar with the center and comfortable with what is going on that day.
Coordinate With the Teachers and Caregivers
When enrolling your child in a day care program, let the staff know about the child's fears, preferences, and personality strengths and weaknesses. In fact, you may be asked to complete a form with this type of information. Each day you bring your son or daughter to the center, let the staff know of any change in circumstances, such as a sibling's hospitalization or the other parent's extended business trip to explain potential behavioral changes in the little one. While the staff doesn't need to know every detail of your children's lives, being informed of certain events can help them to understand the child's questions or change in demeanor that day if these occur.
Be Available if Needed
Especially at first but also whenever possible, be available to talk to the staff by phone or respond to text messages if needed. Sometimes a child might do something or express a concern that the staff will want to ask you about. Of course, when a child gets sick at the center, the parent should be accessible to pick up the child as soon as possible. Knowing that you are able to respond to a need for information or to get the child for any reason will be helpful to the staff and comforting to your child.
Reinforce Your Child's Child Care Experiences
To provide an exceptional childhood experience at the child care center, ask about the day's activities and listen as your little one explains. You can stoke their enthusiasm and help them to recall and retain skills or concepts learned each day by discussing them with your child afterward.
Almost every successful childhood experience can be facilitated by parental oversight and coordination. Kids trust their parents to provide a safe and interesting environment for them away from home. Give your little ones consistent support by making early education a valuable part of their young lives.