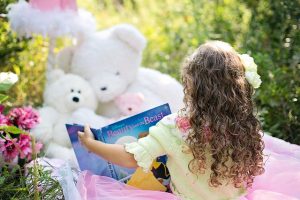 Storytelling is a long-practiced art of retelling events that have happened in the past and also creating all-new stories that come straight from the imagination. It has been used to continue traditions and pass along beliefs throughout civilizations for thousands of years. 
From cave wall paintings to modern books, storytelling will always have a place in human history and will continue to make a lasting impact for generations to come. 
Quality Time Matters!
Spending one on one time with children is a vital part of making lasting connections in the family. Reading and storytelling are a great way to spend time with children! 
Kids who spend quality time with parents and other loved ones have been shown to have decreased levels of risky behavior and increased emotional intelligence. Undivided attention shows the child that they are important and valued members of the family, especially if they know the parent is busy and they still make time for them. 
Spending time with a child allows the guardian to see their current state, physical and mental, giving them a better understanding of how they are doing instead of simply asking them how they are. 
Even 10 or 15 minutes a day is beneficial for them! This is extremely important for kids who are going through stressful times, such as moving houses, going to a new school, and other life events that alter their normal schedule. 
Spending time with them can relieve stress and feel more confident throughout the day. Such a simple act of telling a story can leave lasting impressions when done constantly over time. 
Make it a Routine!
Reading at night before bed or storytime before nap time can create a family routine of setting aside time especially for family bonding. This gives the child a set routine as well as something to look forward to! 
The Effects of Storytelling
Kids have wild imaginations, as seen in the games they play and the ideas that they come up with. So feeding their imagination with storytelling and reading books can encourage creativity and self-awareness.
Stories are also a great way to begin to encourage goals and dreams for young kids that have the whole world at their hands. 
More Benefits
Reading and oral storytime can create a positive learning environment for kids. Other benefits include: 
Teaching sounds and pronunciation 

Talking about moral and ethical decisions 

Stimulate curiosity 

Improve communication skills 

Learn about other cultures 

Brain development 

Emotional control 

Give them memories of their parents spending time with them! 
Story Time and Bonding
Kids crave attention from their parents and setting aside that time can help shape their childhood to give them a strong foundation to grow from. 
Storytelling and reading books with children show them that they matter to the parent and open up a world of benefits.